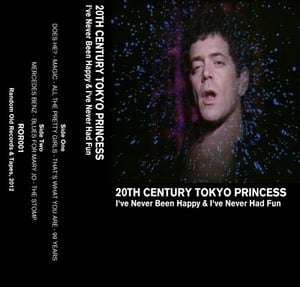 $

5.00
Ted Clark is 37 years old, works in a liquor store, and hates rock n' roll. He fronts the 20th Century Tokyo Princess, and writes songs that take the life lessons he learned while trawling the back catalog of Lou Reed and Jonathan Richman and turns them into loud, violent messes of feedback and cathartic bubblegum hooks. It's like glam rock made for a world where glamour is in short supply. If you were a music blogger, it would be the Modern Velvet Jesus Mary Loverground.
It's LOUD.
I've Never Been Happy & I've Never Had Fun is an ugly album. It contains eight tracks of raging pop music. It was recorded direct to 4 track and mixed in mono back on 05/05/2010, and is presented with no embellishments or overdubs.
Random Old Records & Tapes is proud to announce I've Never Been Happy & I've Never Had Fun as its debut release. ROR #001 is limited to 100 hand-numbered RED cassettes. Each copy comes with a FREE digital download containing two bonus tracks not on the tape.
The Styrofoam Drone:
It's without a doubt one of the dirtiest sounding releases I've posted up here in awhile, riddled with gritty, bubblegum pop hooks and enough energy to last into next year.
Permanent Records Chicago:
A rag tag down on his luck bummer pop tunesmith bash and crashes it direct to tape backed by a rhythm section. This shiz is feral raw as fuck distorto pop at its most rudimentary. 20th Century Tokyo Princess' "I've Never Been Happy And I've Never Had Fun" is a lo-fi affair in the vein of Nobunny with less humor and more animosity or some mega lost rehearsal tape from Rocket From The Tombs. Yep, it's recommended.
Razorcake:
It's, musically, the Germs and, vocally, the Modern Lovers. There's a picture of Lou Reed on the cover. This is the kind of band that I'd like to be from my town so I could drunkenly bounce around while they play, but not a band I would go out of town to drunkenly bounce around to. That does make sense? If you're into the whole, "How fucking doped out do we sound?" thing, this is all you. Also, their bass player is good.
Stream the entire release for FREE and buy a digital download here:
20thcenturytokyoprincess.bandcamp.com
Cassette release date: 01/02/12