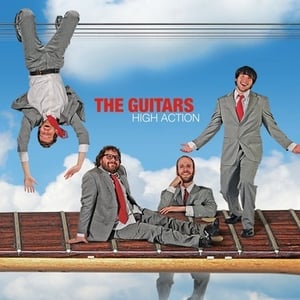 $

12.00
The debut vinyl offering from Cincinnati's bubblegum soul rockers The Guitars has been over a year in the making, and the proof is in the grooves. All seven tracks on High Action graft traditional romantic rock n' roll themes onto sturdy, lush arrangements that recall Phil Spector and Motown. The Guitars are students of classic pop music, and they have created a record that somehow sounds retro and timeless and fresh at the same time.
Infectious pop melodies blend into horns and keyboards and massed backing vocals to create an album that demands a permanent place on your record shelf. If you dig Tommy James & The Shondells, Conspiracy Of Owls, Todd Rundgren, and The Zombies, then you'll love The Guitars. Give High Action a spin, and you might find yourself singing along sooner and not later.
Stream the entire album here for FREE: http://theguitars.bandcamp.com/
Limited pressing of 300 copies. The first 100 on RED vinyl are SOLD OUT. Each copy comes with a FREE digital download code.