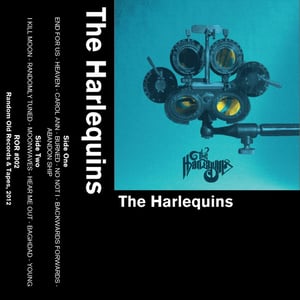 $

6.00
The Harlequins are one of the hardest-working bands in the Midwest, logging several hundred shows over their four years of existence. All that hard work is evident when you press play on this Cincinnati trio's second full-length album, and third release overall. The sounds on this tape are hypnotic, powerful, and immediately familiar, yet astonishingly inventive.
Clocking in at thirteen tracks and fifty minutes, The Harlequins is a stunning album, filled with razor-sharp psychedelic pop that brings to mind the work of Thee Oh Sees, Guided By Voices, and early Pink Floyd.
ROR #002 is limited to 100 hand-numbered BLUE cassettes with full-color artwork.
Chromewaves Radio:
The band has a genuine knack for embracing the lo-fi qualities of Guided By Voices while charging forward with the modern energy of Thee Oh Sees. It's a task to nail them down to any specific sound since they waiver through a blend of punk, garage, psychedelic, and slacker moods, but they're definitely a band to keep an eye on and reports of their live show seem out of this world, which you can hear in the music how this could very easily be true. It's a dirty, sexy mess that I want to be a part of.
The Styrofoam Drone:
The thing to remember about this cassette is that around each corner you never know what you're going to encounter – just about every track offers a challenging psych-out at some point, each a beast of its own kind.
Stream the album here for FREE: http://theharlequins.bandcamp.com/album/the-harlequins
Cassette release date:
03/06/2012